Last December, we launched our first round of the SDG Investor Maps sessions together with our partners The United Nations Development Programme Nigeria and The International Chamber of Commerce Nigeria. These maps serve as a digital tool providing market intelligence on investment opportunities and related impact data to identify and increase Sustainable Development Goal (SDG) aligned actionable investments in Nigeria. The Nigeria SDG Investor Map thus maps the overlaps and gaps between public sector initiatives and private sector interest, aiming to facilitate more private-sector investment and public sector support for three SDG-enabling sectors that include renewable energy, agriculture, and healthcare.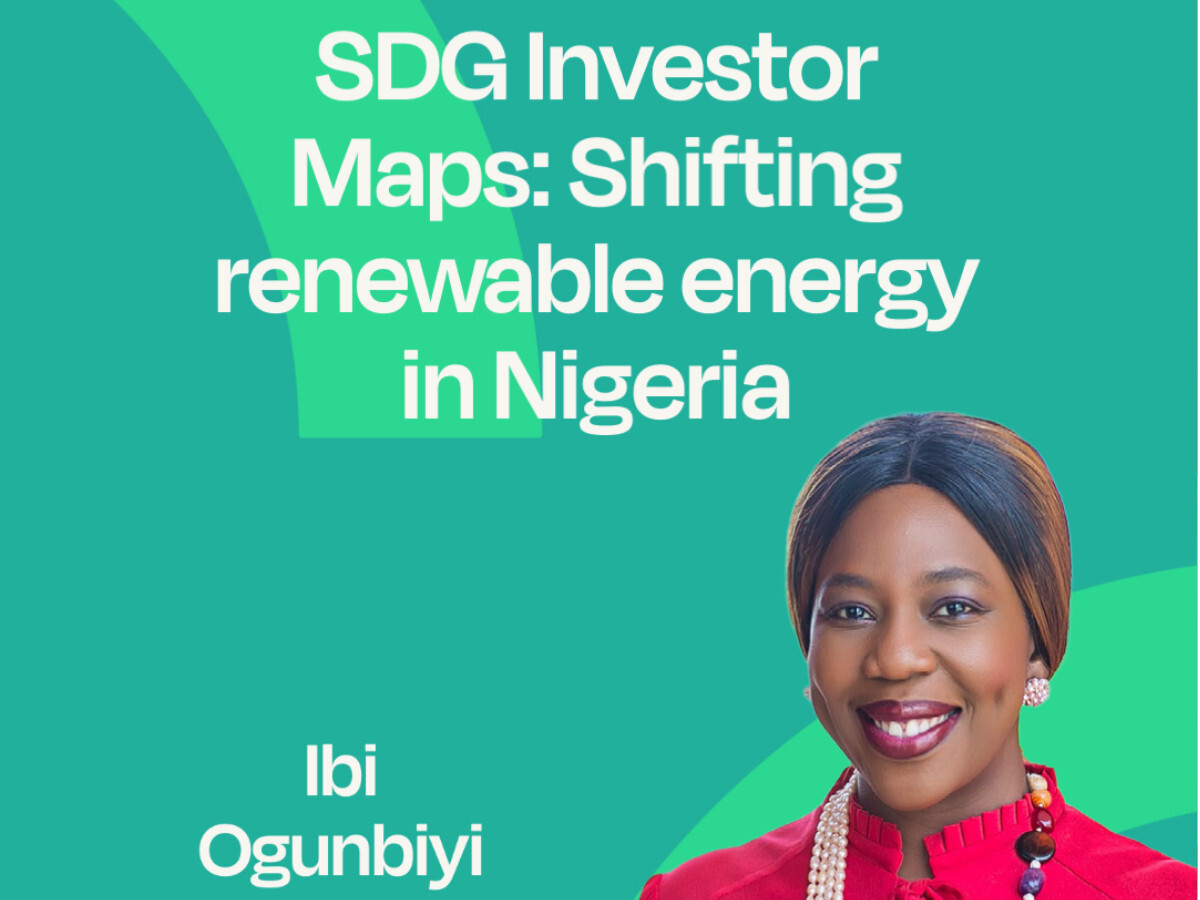 We recently caught up with one of the moderators from this event, Ms Ibi Ogunbiyi, who hosted a breakout session focusing on the renewable energy sector in Nigeria.
Below, Ogunbiyi shares her key takeaways on the Investor Maps, the role the government plays in meeting the Sustainable Development Goals and how the renewable energy landscape in Nigeria is shifting.
SDG Investor Maps: a win-win
By initiating constant and meaningful engagement with private sector investors and channelling market intelligence derived from the Maps to investors, and the outcome of stakeholder engagement to policy-makers, it seems to me that the overall rationale for the Maps is to ensure there is alignment between what the investment community requires to galvanise investments and what policy-makers and governments deliver by way of an enabling business and investment environment to attract and retain those investments.
Personally, I find the Maps will be a very welcome development for potential sponsors and investors in renewables projects in Nigeria that are constantly looking for ways to minimise due diligence costs and having access to credible information on investment opportunities.
From the presentations made by the Hon. Minister of Finance, Budget & National Planning, and the Senior Special Assistant to the President on SDGs in Nigeriaand that by the Hon. Minister of Environment, and the representative of the Hon. Minister of Power during the Renewables break-out session, what was clear is that the Nigerian government remains committed to the realisation of the SDGs, and is directing considerable and commendable resources and effort to issuing and implementing the relevant policies towards this objective.
Policymaking with purpose
Notably, there are currently clear regulatory frameworks that govern licencing, charging of tariffs, exclusivity arrangements and compensation regime. The Mini-grid Regulations issued by the Nigerian Electricity Regulatory Commission are designed to promote investments in rural electrification and provides a framework for (i) engagement between mini-grid developers (off-grid electricity), community stakeholders and existing distribution companies, (ii) private retail tariff arrangements for certain operators; and (iii) compensation for developers in the event of operational expansion by the distribution company into licensed to cover the relevant community. There are also various financial and fiscal incentives available to investors (more recently through the Finance Acts of 2019, 2020 and 2021) such as tax exemptions and waivers for eligible projects.
More recently, the Federal Government launched the Solar Connection Intervention Facility, which is an initiative that aims to roll out 5 million new solar-based connections in communities that are not grid connected, through financing activities in the off-grid solar value chain activity. This is in addition to various other ongoing initiatives being undertaken in collaboration with various donor agencies.
Given the critical role that a robust, investor-friendly and consistent legal framework and an enabling business environment play in incentivising investments which promote sustainable development in the country, there can be no doubt that the attitude of the Nigerian government to policy making in the renewables sector is a step in the right direction. If this momentum is sustained, I am confident that an enabling regulatory climate will in the long-term enhance Nigeria's chances of attracting a strong pipeline of investments in renewables projects.
Current realities in the Nigerian power sector are such that not much progress has been made with the attempt by the Federal Government to prioritise and promote the development of fourteen utility scale on-grid solar photovoltaic projects — for various political and commercial reasons including the impasse over the appropriate tariff levels and the scope and complexity of government support for the payment obligations of the Nigerian Bulk Electricity Trading Company Plc, the government-owned counterparty to the power purchase agreements entered into with the project developers. It was thus acknowledged during the break-out session on Renewables that the myriad and complex macroeconomic, political and commercial issues beleaguering on-grid power supply in Nigeria, (both for thermal and renewable projects), make it ineluctable that off-grid renewable projects must be prioritised if the gross energy supply deficit is to be addressed in any impactful way in the slow and arduous journey towards resolving on-grid power issues in the country.
Bridging the energy gap
The break-out session on Renewables also identified that investment in Nigeria's renewable energy market is not without challenges, such as exposure to illiquidity risks. The areas with poor grid infrastructure tend to be rural areas where most residents are low-income earners. Therefore, investing in off-grid technologies targeted at rural areas carries a significant bankability risk arising from the mismatch between the quantum of capital investments required relative to volume of collections. Accordingly, any potential renewable energy developer would only be willing to invest if there are assurances it would be able to raise and repay the necessary financing from project revenues.
Nonetheless, it was acknowledged that in order to drive sustainability by bridging the energy gap for unserved and underserved communities, investors in renewables projects must be focused on the SDGs and adopt a more developmental outlook in setting their commercial objectives. To do so, investors should be willing to adopt innovative measures to de-risk their investments, such as (i) accessing alternative sources of financing other than the traditional loans from commercial banks that are often characterised by shorter tenures and high interest rates; (ii) leveraging on available fiscal incentives; (iii) adopting innovative commercial structures.
Accessing donor support and grants provide a means for project developers to reduce project capex requirements. Project developers can access grants and technical assistance from multilateral agencies and through renewable energy initiatives supported by the Federal Government such as the Nigeria Electrification Project implemented by the Rural Electrification Agency in collaboration with the World Bank, African Development Bank and other partners.
In addition to existing fiscal incentives, the Federal Government can also play a role in de-risking investments through providing more sector specific fiscal incentives that are aimed at encouraging private sector investments. Other ways in which investors can de-risk investments by structuring projects in a way that they can be easily refinanced either through equity or concessionary debt.
The way forward
In all, the discussions during the Session were illuminating and insightful. I thoroughly enjoyed the opportunity to rub minds with policymakers and investors and to see the different perspectives on how to propel the Nigerian renewables market forward, with the SDGs as a central goal. My hope and expectation is that this is the first in a long line of meaningful private sector engagements that will enhance the utility of the SDG Investor Maps and ultimately lead to more investments in credible and sustainable projects that are socially relevant and transformational.
About Ibi Ogunbiyi
Ogunbiyi graduated top of her class at the University of Ibadan and is currently a Partner at Olaniwun Ajayi Power and Infrastructure Practice. She has extensive experience in power acquisition and financing, corporate finance, mergers and acquisitions, corporate and commercial law. Within the last decade, Ibi has been integral to many of Olaniwun Ajayi's notable transactions in complex project financings, power and infrastructure project developments, power sector advisory, public-private partnerships, concessions, and corporate financings.